When you hear the buzz of an automatic drip coffee machine or catch that familiar aroma wafting from the kitchen, there's a good chance you're encountering drip coffee.
A mainstay in American households, coffee shops, and offices, drip coffee isn't just another method among various coffee brewing methods; it's a culture, a morning ritual, and, for some coffee drinkers, a lifetime love affair.
So what is it that sets drip coffee apart, and how do you get a delicious coffee cup? Let's dive in.
What Makes Drip Coffee Different?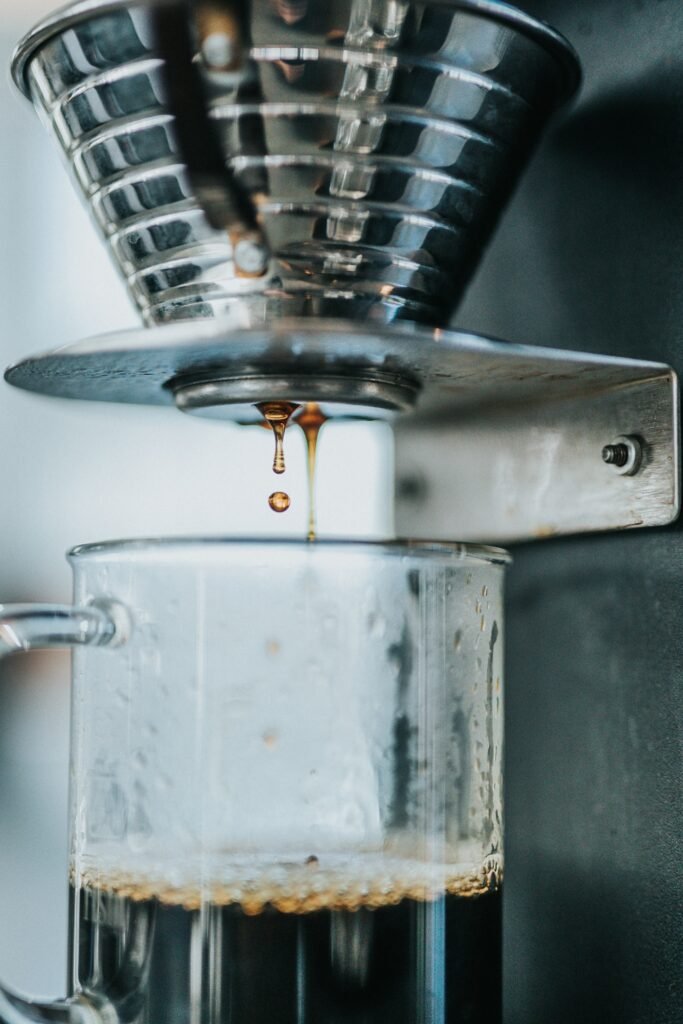 What makes drip coffee stand out is its no-fuss nature. This method involves pouring boiling water over a bed of coffee grounds contained either in a coffee filter or a stainless steel or mesh filter. The water flows through ground coffee, thanks to gravity, and allows for a consistent extraction of soluble solids, making it both a blessing and a curse for coffee aficionados.
The hot water extracts flavors as it moves, ultimately giving you that aromatic cup of drip coffee. You don't have to be a barista to pull this off; you just need to push a button on electric drip coffee makers. The process is straightforward but leaves little room for customization, making it both a blessing and a curse for coffee aficionados.
History of Drip Coffee:
Go back in time to 1908, and you'll meet a German housewife named Melitta Bentz. Frustrated with the grit in her favorite coffee, she innovated using a paper coffee filter. Voila! The first drip coffee method was born.
Fast forward to today, and the technology has evolved, but the core concept remains the same: simplicity and efficiency in the drip coffee brewing process.
The Advantages of Drip Coffee
One of the main advantages of drip coffee is its consistency and convenience. With the push of a button, your coffee is ready in minutes, ensuring a consistently delicious cup every time. Unlike manual brew methods like pour-over brewing, which requires more involvement, drip coffee offers a more hands-off experience while maintaining its consistent taste.
The water temperature, brewing time, and coffee-to-water ratio can all be precisely controlled in an automatic drip coffee machine, resulting in a consistently delicious cup of coffee every time.
Additionally, it's an excellent option for those who prefer a less intense coffee experience, as it produces a clean and smooth cup with less sediment and acidity.
How Drip Coffee Works
Imagine a well-oiled machine; that's your drip coffee maker. The device has a water reservoir and a compartment for your coffee grounds. Once you hit "start," the machine heats the water to the optimal water temperature, which then drips through a filter containing the coffee grounds.
Gravity does the rest, pulling the water through the grounds and into a thermal carafe below. But beware, not all machines are created equal. Lower-end models may not heat water to the optimal temperature, resulting in a brew that's more sour than a morning without cups of coffee.
When to Drink Drip Coffee
Due to the caffeine content of drip coffee, most people drink it in the morning to increase alertness. However, there are health benefits to consider as well, such as its antioxidant properties. To get the best effect from caffeine, avoid times when cortisol levels are at their peak: around 8 am-9 am, 12 pm-1 pm, and 5:30 pm-6:30 pm.
How to Keep Your Coffee Warm
After brewing drip coffee, it's essential to keep your coffee warm without overheating it, as overheating can degrade the taste. Most modern drip coffee machines come with a thermal carafe to keep your coffee hot.
How to Prepare Drip Coffee: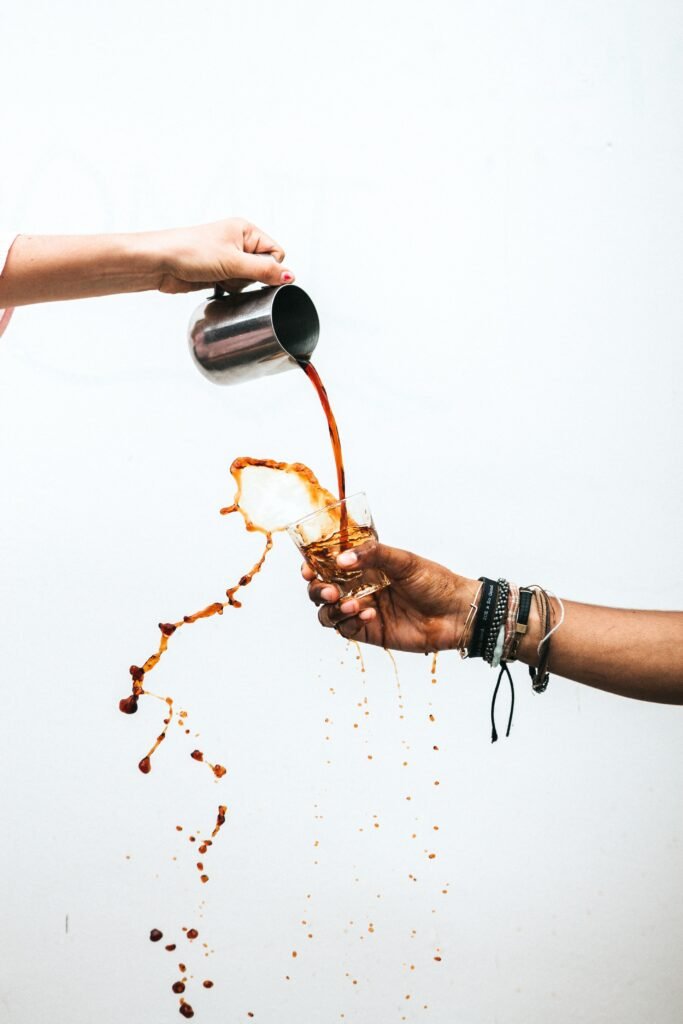 What Equipment Do You Need?
Firstly, you'll need a drip coffee machine. Some coffee scales and a coffee grinder can be handy but aren't strictly necessary. Also, don't forget the filters and, of course, your favorite ground coffee beans.
What is the Main Feature of a Good Drip Coffee Maker?
Just picture it: waking up in the morning to the comforting hum of a coffee machine. Yet, all machines are not born equal. So, what distinguishes a top-notch drip coffee maker from a mediocre one? The crux of the matter is consistency. Yep, you heard it right.
To get that perfect blend of aroma and taste, a drip coffee maker must evenly saturate coffee grounds and maintain a water temperature of around 195 to 205 degrees Fahrenheit. This sweet spot of temperature not only extracts flavors optimally but also ensures you won't be sipping on a bitter or sour concoction.
Ah, but there's more to it. You might be wondering, "What about the bells and whistles?" Good point. More advanced models come with features like programmable settings, built-in grinders, or even smart technology that lets you prepare your coffee from bed using your smartphone. Nifty, isn't it?
Yet, even while these gadgets enhance the experience, never underestimate the basic elements: water temperature and saturation. When push comes to shove, these two are the key players in the game of drip coffee making.
Type of Coffee Bean and Coffee Blends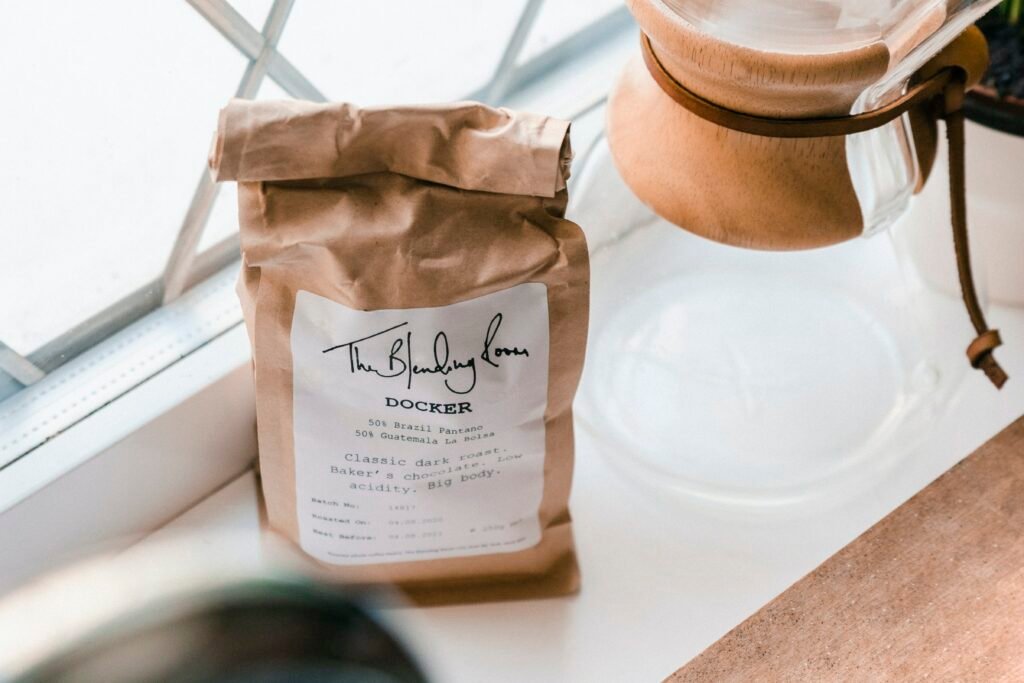 For drip coffee lovers, the type of coffee bean matters. You could opt for single-origin coffee for distinct flavors or go for coffee blends for a more balanced taste. A medium roast usually works well for drip, but some prefer lighter roasts or dark roast, depending on their palate.
Tip: Always opt for fresh coffee beans over pre-ground coffee for a more robust and flavorful cup. Keep your beans fresh in an airtight container, and grind them just before brewing. Blade grinders can do the job, but burr grinders offer a more even grind.
A medium grind size is your friend. While pre-ground coffee is convenient, using a coffee grinder to grind fresh beans elevates your brew from good to gourmet.
The Coffee to Water Ratio and Brewing Time
When aiming for better-tasting coffee, the coffee-to-water ratio is crucial. For a balanced brew, aim for a ratio of one to two tablespoons or about 15-30 grams of coffee for every six cups of water. The amount of coffee can be adjusted to your taste.
However, this is just a recommendation: if you have a sensitive stomach, you can use less coffee, but if you don't experience this, you could add more coffee and get a stronger brew.
Brew time is also vital: the ideal brewing temperature and brewing time set by the Specialty Coffee Association are around 197.6 F within one minute and 4-8 minutes, respectively, for optimal flavor extraction.
Drip Coffee Comparison
Drip Coffee vs. Pour-Over
Pour-over coffee requires your active participation and uses the pour-over method to extract flavors. Unlike the popular method of using automatic coffee makers for drip coffee, the pour-over method gives you full control over every aspect, from the water temperature to the brew time.
Drip Coffee vs. French Press
The French Press is known for its rich, full-bodied taste, a contrast to the cleaner, more restrained flavor of drip coffee.
French press allows natural coffee oils to mingle in your cup due to the lack of a paper filter, contrasting the cleaner, more restrained flavor of filter coffee.
Cold Drip Coffee and Cold Brew Coffee
Cold drip coffee is an alternative to the hot drip method, focusing on a longer extraction time with cold water, resulting in a different flavor profile. Don't confuse this with cold brew coffee, which uses coarsely ground beans and an even longer extraction time.
FAQ
Is Drip Style Coffee Tasty?
Taste is subjective, but let's make one thing clear: drip coffee can absolutely be delicious. Whether you prefer it as black coffee or with milk and sugar, its straightforward flavor is comforting to many.
Can Drip Coffee be Iced?
Absolutely, just brew it stronger than usual to compensate for the dilution from the ice. Alternatively, you can make ice cubes out of brewed coffee to keep your cup of coffee's flavor intact as the ice melts. Avoid chilling hot drip coffee in the refrigerator, as oxidation can degrade its taste.
Can Drip Coffee be Reused?
Not recommended. Once hot water has flowed over ground coffee in the drip coffee brewing process, the remaining coffee grounds are depleted of their soluble compounds, making them unsuitable for reuse.
Can You Use Drip Coffee in an Espresso Machine?
No. Espresso requires a finer grind and higher pressure for proper extraction. Using medium-ground coffee in an espresso machine will result in a subpar brew, lacking in flavor and crema.
Can You Use Drip Coffee in Cold Water?
Technically, you can, but it's not advisable. Cold brew requires coarsely ground coffee beans for a slow extraction process, which differs significantly from the medium grind used in drip coffee.
Wrapping Up
To sum it up, drip coffee is like that dependable friend who's always there when you need it—uncomplicated, reliable, but capable of surprises if you pay attention. With the right machine and a little know-how, you can make a cup of coffee that hits all the right notes.