Don't lose your chill over prohibitively expensive cold-brew prices!
As cold brew gets more and more popular, a lot of new machines are arriving on the market that promise optimal cold coffee beverages.
The process of making cold brew can be as easy as mixing ground coffee and water in a jar and straining it. Still, this technique's popularity in cafes and homes has led to an increasing number of gadgets that claim to streamline the process.
Whip up your own each day for mere pennies, with the help of one of these top-rated (and completely analog!) cold-brew coffee makers.
OXO Good Grips Cold Brew Coffee Maker
This cold brewer from OXO lets you brew up to 32 ounces of coffee on your countertop for 12 to 24 hours at a time, depending on your taste preference.
It works by adding coarse coffee grounds to the large handled chamber, then pouring water over the Rainmaker top. The water will drip down, evenly steeping the ground for your chosen length of time.
Finally, press the brew-release switch to fill the included borosilicate glass beaker with your cold-brew concentrate.
Users love the look of this smoky, tower-like device, but they do stress that the beans must be ground on the course side. Otherwise, the mesh metal filter can easily get clogged.
Cold Bruer Coffee Maker
This is a cold-brew coffee maker for the design-minded. Bruer's brewer is comprised of a steeping system that stores ground coffee in the lower chamber and up to 20 fluid ounces of water up top.
Slowly, the water drips into the coffee, slowly steeping it to draw out the more nuanced flavors that full immersion can sometimes dilute. 
Three to five hours later, you'll have fresh coffee concentrate in the bottom carafe that you can doctor up however you see fit or seal it up tight to have a ready-made brew for the next few days.
County Line Kitchen Cold Brew Coffee Maker
There are a few cold-brew makers out there that feel like a master class in coffee brewing — and that's completely fine for the connoisseurs!
If flavor nuances don't matter quite as much to you, like the ease of use, then check out this crowd favorite. 
This set includes a 2-quart Mason jar, a stainless-steel mesh filter, a silicone gasket, and a screw-top lid.
Just fill up the filter inside of the jar with ground coffee, pour water over it, seal up the jar tightly, and let it chill overnight for an end result that'll taste just as delicious as cafe-brewed.
Asobu Coldbrew Portable Cold Brew Coffee Maker
The Asobu cold brewer gets extra points for portability.
Most of the picks on this list have a cap included with the carafe, so you can store the coffee concentrate in the fridge, but this one twists on tightly, letting you take the double-walled stainless-steel mug along with you on your travels!
Fill the mesh sieve inside of the top chamber with ground coffee, and then fill to capacity with water. Let it brew for up to 18 hours, then hit the release button when the coffee concentrate is ready. Just add a few ice cubes, water, or milk of your choice to take the liter to go! 
The only major drawbacks are that the mug isn't see-through, so at-home-only brewers may want to opt for a different model. The mug is also slightly too big to fit into a cup holder. The device is also available in a black, copper, silver, or white finish.
Takeya Patented Deluxe Cold Brew Maker
For the single, sporadic cold-brew drinker, super-sized devices may not make the most sense.
This coffee maker brews up just four servings (or 1 quart) of coffee concentrate in 12 hours, and it's the smallest and most budget-friendly pick on our list. That means you'll have cash left over to splurge on a nice travel mug to sip it from!
More: Best Coolers
Toddy Cold Brew System
The Toddy is another well-known cold-brew maker, though its white plastic build is probably not the most eye-catching. It's a model that's been around since the '60s, producing high-quality concentrate with a bold flavor, without any of the bitterness.
Pour water over your coffee beans to let them steep, and slowly drip the concentrate down to the glass carafe below.
The proprietary filter at the bottom of the steeping device sets this one apart — it's made of a felt-like fiber, as opposed to just using stainless-steel mesh or a paper filter, which aren't always sediment-proof. And yes, filter refills are available.
KitchenAid KCM4212SX Cold Brew Coffee Maker
Got a full house of cold-brew fanatics? Go super-sized with this analog coffee maker.
It makes about 14 servings (or 28 ounces) of coffee concentrate, and the unit sits unobtrusively in your fridge, without any risk of knocking it over.
Users note that the stainless steel mesh filter is incredibly fine and superior to other filters on the market — virtually no sediment gets through.
Ovalware Airtight Cold Brew Iced Coffee Maker
Whether you're whipping up a cold brew or sweet tea, this set makes the process nearly foolproof.
Comprised of just three pieces — the carafe, the mesh filter, and the airtight cap — it produces up to four servings at once, and the undiluted concentrate can be sealed for up to two weeks.
Plus, the pitcher shape makes for drip-free pouring!
Buying Guide – Best Cold Brew Coffee Makers
A true cup of coffee, known as drip coffee, can be enjoyed anywhere, anytime, and the very best part is that cold brew coffee will never spoil or go bad. Most coffee lovers have their personal favorite brewing process.
Many enjoy experimenting with different flavors by using different coffee brewing machines. However, it may come as a surprise to learn that cold brew coffee is actually an original method of brewing coffee that originated in Europe many years ago. The warm brewing process used by many coffee lovers worldwide simply doesn't have the robust flavor or depth of flavor available with cold water alone.
The original French method involved boiling the coffee in wine barrels, then filtering the mixture through paper filter baskets to remove the sediment. The final coffee cup was often strong and bitter-tasting, something that the French were more than willing to tolerate for the richness of the taste and the rich complexity of the flavor.
Nowadays, the brewing process has been duplicated and incorporated into automatic drip coffee makers, giving these machines the ability to produce coffee that is close to the original French preparation. The favorite drink can now be created using items ranging from a standard Cuisinart automatic coffee maker to a French Press. Both of these techniques involve brewing liquid through the use of a filter basket and hot water, often over the course of several days.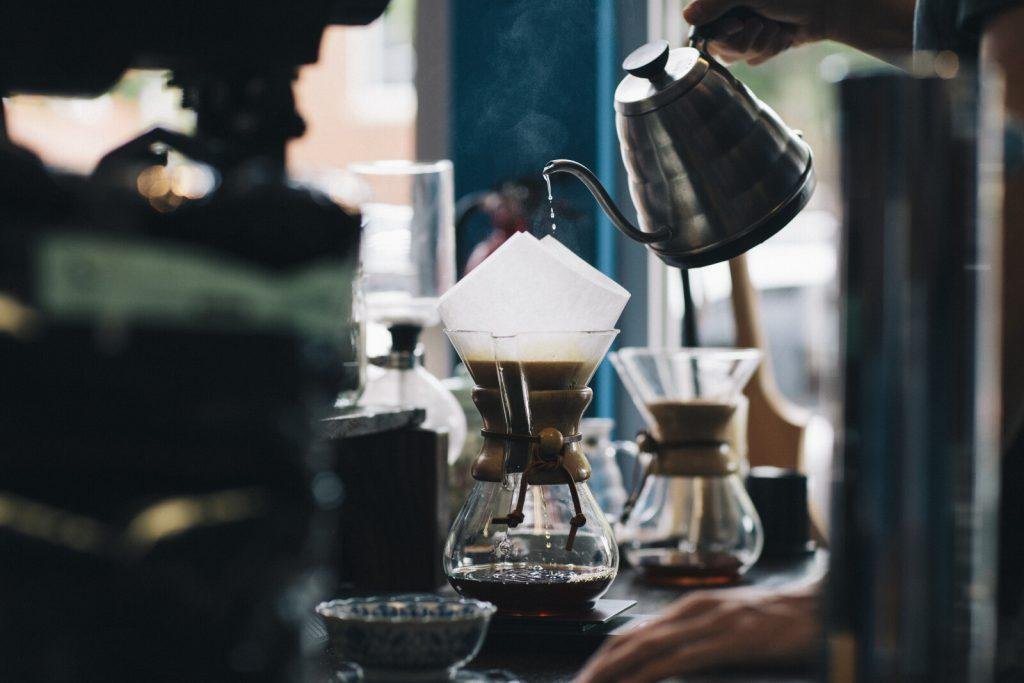 The process used in producing this Java cup via a drip cold brew process remains essentially the same. However, the vessel in which the liquid is poured or stirred will vary. In the initial French Press process, the coffee is mixed with a small amount of coarsely ground coffee and placed into the filter basket. When brewing is complete, the coffee grounds are allowed to become sediment within the basket, which in turn creates the coffee brew.
This process allows coffee enthusiasts to enjoy a stronger cup of coffee. However, the smaller-sized pots, pans, and mugs used in brewing still require a little bit of stirring to ensure that the coffee brew is consistent.
Cold brew coffee makers and French presses alike differ primarily in terms of their appearance and operational style. Cold-brew brewers and presses typically come in one size, fit the bill for both small home operations and commercial applications, and are easy to clean and maintain.
These models also have fewer parts and require fewer repairs, which may be a factor for some users. On the other hand, the French presses are typically large metal devices that are difficult to clean and maintain and may require occasional replacement of parts.
Other factors must be considered when choosing between a standard coffee maker and a cold brew maker or immersion cold brew maker. A standard coffee maker is likely to provide you with your daily cup of Joe. Still, if you are a coffee drinker, you likely associate coffees of different varieties with different people, different times, and different tastes.
For instance, some people may like their coffee strong, while others may find dark roasting their brews to their liking more satisfying than light roasting. Some people may even prefer their coffee bitter, while others enjoy it lightly. As you may have guessed, each of these preferences is dependent on individual preferences, which is why so many coffee lovers choose to have their coffee brewed differently from day to day based on their personal preferences and habits.
Also, a cold brew coffee maker can make a quick coffee cup, as it uses hot water to create hot water under pressure, rather than the use of hot water leaving pressure in the pot or pan. This method results in a quicker brewing time and more flavorful coffee, as the coffee is extracted quickly. However, there is a downside to having your coffee made this way, as the end result may not be as rich in flavor as if you had your water heated up to a higher temperature before brewing your coffee.